Client Testimonials
I believe in 108 Yoga's holistic approach to wellness….
As I look ahead in my yoga practice I would like to continue to make it an integral part of my life. I am convinced that yoga is and will continue to be a significant factor in my general well being as I approach and enjoy my senior years. I believe in 108 Yoga's holistic approach to wellness and have integrated it into my personal practice. For me, the biggest benefit is improved flexibility and peace of mind. My yoga practice definitely helps me to feel more calm and less stressed. I would and have recommended 108 to others.
Steve
Lunchtime session is a great stress reliever in an otherwise crazy workday
I absolutely believe in a holistic approach to wellness, especially as it is lived out in the programs at 108 Yoga! In a lunchtime a attending a lunchtime session, I actually schedule it in and make time for me. It is so convenient and I feel great; and calmer. The lunchtime session is a great stress reliever in an otherwise crazy workday. I have recommended 108 Yoga to others and recommend it to you.
Jennifer
From practicing yoga I feel physically better. I appreciate the friendly environment at 108 yoga.
The biggest benefit that I have received from practicing yoga is that I feel physically better. I came back to yoga because I was feeling physically tense. I find that yoga helps me to be calmer and chases out the thoughts that swirl in my head. I have a job that has a lot of thinking associated with it and I find that I am less stressed when I have the time in a yoga practice to slow down. My approach to keeping myself healthy is doing something physical. I can tell when I am out of balance when I am up in my head too much. I appreciate the friendly environment at 108 yoga.
Emily
After our first class I was hooked …
Yoga has been a life changing experience for me. I first started at 108 in January 2010 for a beginner's workshop, not knowing anything about yoga except that the pants made your butt look great and that it involved a lot of stretching and deep breathing. I really didn't have much hope that this would be something that I would enjoy or be overly interested continuing after the workshop. Looking back, I couldn't be more wrong! After our first class I was hooked and couldn't wait for the following week to see what was next. Any apprehension or intimidation i may have felt quickly vanished. Since Day One, Dorothy and the instructors at 108 have been nothing but encouraging, inspiring and supportive of my journey towards self awareness. They always take time to answer questions, make new students feel welcome and to take the time to demonstrate any poses that may be challenging or difficult or offer up alternatives.
In a society that stresses us to push ourselves to work hard and be the best at everything, yoga has literally been a breath of fresh air. This is the one part of my life where there is no pressure of perfection, and the only one judging the final result is myself. As a result, my general perspective on work vs. play has changed immensely. Yoga has helped me to gain clarity. It has been challenging physically, mentally and spiritually. After I started my yoga practice, others noticed the changes in me before I even did. I have more energy, concentration and focus. It has helped me improve my relationships with friends, family and myself. It has improved my strength, flexibility, tension, happiness, stress level, mood and most importantly taught me the importance of physical, intellectual, and spiritual balance in my life.
I would (and have!) recommended the 108 Yoga studio to practically everyone I come in contact with. For me, yoga is an extremely cathartic activity which I think can benefit any age, size, gender or fitness level.
My next step is to continue to grow in my yoga practice; challenging myself to try more difficult poses and rely more often on my breath to stabilize any fears or doubts I encounter. Although it is a constant struggle, I hope to continue to re-evaluate my current priorities and take my practice and experiences on the mat into other aspects of my daily life.
Jenn
Celebrating Our Members:
Meet Sarah Jane!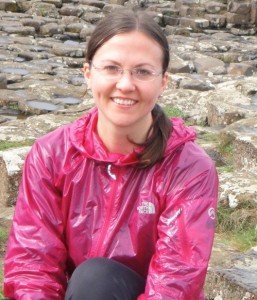 My yoga journey began about five years ago, and after the studio I frequented closed, I was without a "home studio" for a few years. I jumped around different community classes, and when the Groupon for 108 came out in the fall of 2010, I decided it would be the best way to try out yet another studio – one that was close to home and within walking distance from work.
As soon as I arrived for my first class, I realized it was my "home" studio. The space is inviting, and warm. The teachers are very knowledgeable and got me excited about learning more about yoga and how to apply some of the yogic teachings "off the mat."
I work as a librarian at Dalhousie's Sexton campus, and when I took a sabbatical last year, yoga became an essential part of my routine. The kick-start program with Sara Bannerman really "kick-started" my daily practice, and I went from practicing 3-4 times a week, to a minimum of 6-7 times a week. Sometimes I would even go twice a day! Friends started saying "What are you doing?! You're glowing!" The meditation/prana and nourish (yoga nidra) classes are my favourite, and they involve practices I can also do at home. Either that, or if I just need a short stress relief after a long day, I I'll burn some lavender essential oil, and rest in a restorative posture, like legs up on the wall.
Yoga offers me stillness of mind, an open heart, and daily reminders that there is so much to be grateful for (including a wonderful studio like 108)!